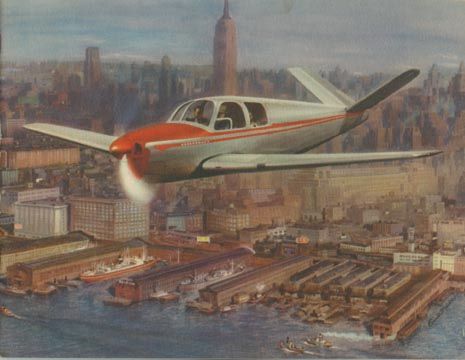 ---
WALTER HERSCHEL BEECH
NATIONAL AVIATION HALL OF FAME
---
C35 Sales Brochure <--click to download
35

BA-100

BA-101

A35

BA-110

B35
BA-120

BA-121

C35

BA-130

BA-131

BA-132
---
Article about a V-tail twin engine Bonanza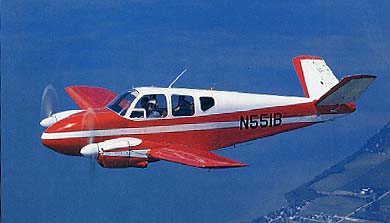 Super-V is a Bonanza conversion
with two Lycoming O-360 engines of 170 hp each.
---
Bill Odam's Waikiki Beech
In 1949 Beech Aircraft Corporation helped sponsor a long distance flight by Bill Odom in an early Model 35. Odom planned to set a record, but Walter Beech saw an opportunity to demonstrate the Bonanzaís performance and reliability. Dubbed the Waikiki Beech, the airplane was the fourth Model 35 built and had been used engineering flight tests. Fitted with additional fuel and oil tanks, the airplane had a range of more than 5,500 miles.
Odom and the Waikiki Beech departed Hawaii on January 12, 1949 and flew east toward their goal-Teterboro Airport in New Jersey. The Pacific Ocean crossing was uneventful, but bad weather forced Odom to land in Nevada after flying for more than 22 hours and covering 2,900 miles. A second attempt was made in March. Again Odom and the Bonanza traversed the wide Pacific without any problems and sped eastward toward New Jersey.
More than 36 hours after leaving Hawaii, the Waikiki Beech landed at Teterboro having flown 5,273 miles and burning only 272 gallons of fuel. The Bonanza was flown around the United States on a tour celebrating Odomís achievement. Later, the airplane was donated to the Smithsonian Institute where it was placed on display.
---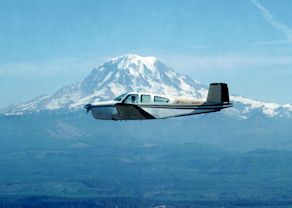 1952 C35
---

Click on picture to enlarge
1955 F35
---

Classic Bonanza Association Fly-in. Texas, 1993
---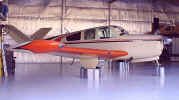 1949 A35
(The ring shields around the landing gear helps keep mice or rats from entering the cabin area from the wheel wells.)
---
1954 E35
Owner Ron Davis (right) California, has this nice 1954 E35, with the E225 and 88" prop.
---